Low Carb Creamy Tuscan Chicken with Spinach and Sun-Dried Tomatoes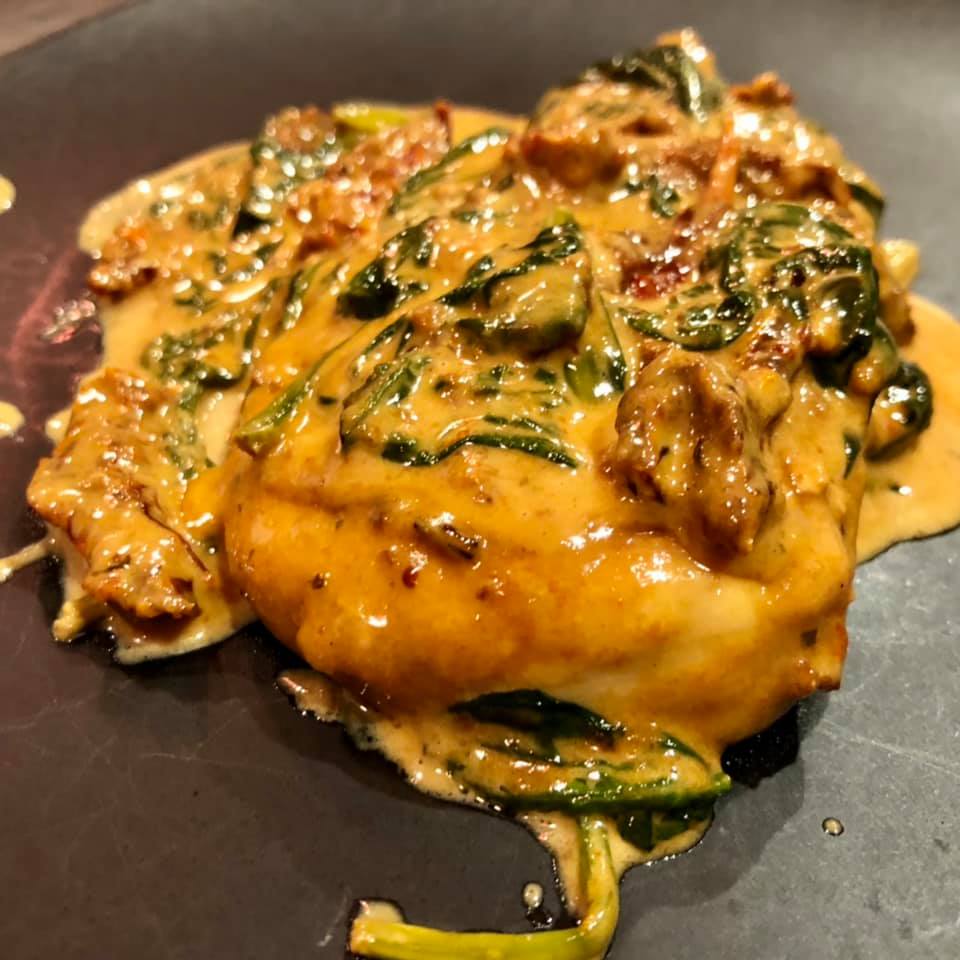 Ingredients
Chicken

 boneless and skinless chicken breasts

halved horizontally to make 4 thin breasts, or you can buy the thin sliced breasts. Just make sure you have them about the same thickness or adjust your cooking time where you do the thicker breasts first.

Salt, I use pink Himalayan or Sea Salt in a grinder. You can use whatever you have.

B

lack cracked pepper

P

aprika

Onion powder

5 tablespoons of olive oil
For The Sauce:

2

tablespoons

minced garlic

 to make it easy. Or you can use 6-7 garlic cloves if you want to get fancy.

3 oz bag of sun-dried tomatoes. You will want to add about 5-6 tablespoons of olive oil to the bag before you start cooking and mix it around in the bag.

1

teaspoon

Dijon mustard

1 1/2

cups

heavy cream

3

cups

spinach

1/2

cup

fresh grated Parmesan cheese

2

tablespoons

fresh chopped parsley

 if you want to dress it up.
Optional 1 lemon if you want to add a little zing.
Optional 2 tablespoons of butter
Instructions
Season chicken with salt, pepper, paprika and onion powder. I season both sides where it is evenly coated. I don't go crazy on the seasoning but just enough to evenly cover the breasts.

I use a large skillet and heat 2-3 tablespoons of oil from the bag of sun-dried tomatoes in a large skillet over medium-high heat. Sear the chicken for 5-6 minutes for thin breasts and 6-8 minutes for the little thicker breasts on each side, or until golden and cooked through

I stick a plate in the microwave for about 45 seconds to warm it up and place the breasts on it and stick it back in the microwave to keep it warm.

Add the remaining oil from the bag into the pan and fry the garlic until fragrant and browned. It takes less than a minute, so don't burn it!

Add in the sun dried tomatoes. Fry for 1-2 minutes to release their flavors.

Mix the Dijon mustard. Make sure you mix it in throughly.

Reduce heat to low-medium heat, add the cream and bring to a gentle simmer, while stirring. I keep stirring to help prevent burning the cream. I taste the sauce to see if it needs any more salt or pepper. You can also add a bit of fresh squeezed lemon if you want to give it a little extra flavor, but it is not needed unless you want the zing.

Add in the 3 cups of spinach leaves and allow to wilt in the sauce.

Add in the parmesan cheese. Keep stirring the sauce and allow it to simmer until cheese melts through the sauce. It usually takes a minute or so. Make sure you break up any clumps of cheese. (Optional you can add 2 tablespoons of butter to give it a richer creamy taste.)

Add the chicken back into the pan and mix it all around so the sauce covers the chicken. Turn off the burner.

I let the chicken sit in the sauce for a few minutes to let is all soak in.
Plate the chicken and top it with the spinach and sun-dried tomato sauce. If you aren't doing the low carb thing you can always serve it over a bed of rice, or pasta.
This goes great with a glass of your favorite white wine.
Let me know how you like it!